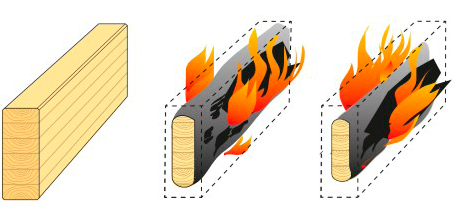 Glulam retains significant constructional stability also in a fire. The picture illustrates a cross laminated timber before a fire (left), after a 30 minute fire (middle) and after 60 minutes of fire (right) from all four sides.
Beams and other wooden structures made from glulam with large cross-sections (strong dimensions) have a high fire stability. The surface is first ignited and then the fire penetrates the wood with virtually constant rate – of about 0.5 - 1 mm per minute. The penetration is slow however, because of the carbon layer which forms a heat-insulation and prevents the flow of heat from the fire area to the pyrolysis zone. There is also much less smoke when glulam burns.

The image above shows a glulam beam exposed to fire for over 5 hours. Before the fire the size was 165 x 710 mm and after it was 80 x 650 mm. The finger joints were intact after the fire and successfully passed a shear test.
The temperature in the unburned parts of a rough wooden structure remain unaffected, even during a prolonged and substantial fire. Only in a narrow, about 10 mm deep zone immediately beneath the carbon layer, do temperatures reach above 100 ° C, while the strength and rigidity there is substantially lower than in the unaffected wood. Temperature fluctuations during a fire are therefore negligible in a glulam frame, unlike a steel or concrete structure in which the length of the extension in a fire can cause secondary damage to connecting masonry structures.