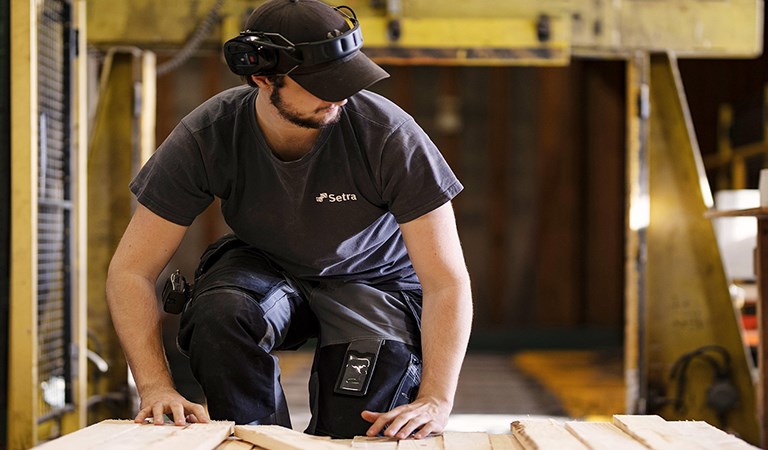 Production
We work with a fantastic, sustainable raw material and want to make the best use of every log. At the same time, we are focused on reducing our energy consumption and the overall environmental impact of Setra's operations.
Setra's sawmills and processing units are certified according to environmental standard ISO 14001. The highest priority environmental issues in our units are energy efficiency, noise, and resource efficiency.
We almost entirely use renewable energy sources. 96% of all the energy we consumed in 2021 was renewable.
Bioenergy from our own boilers or district heating accounts for about 75% of our total energy consumtion. Bark and sawdust from our own production is incinerated in boilers and the heat is then used in the drying kilns.
Since 2018, Setra only purchase ecolabelled electricity from suppliers of
hydropower, wind power and bioenergy.
Optimal Use of Raw Materials
To get the most out of the timber in the most optimal way is a key issue for Setra, both from a profitability and sustainability point of view.
The value of each log is optimized and we try to get a high sawing yield, ie a high volume of sawn timber in relation to the volume of raw material used. The saw yield is defined by the log dimensions, sawing technique and the way the log is sawn into boards and planks on the basis of the financial value of the end products and customer demand.
About half of every log that arrives at Setra's sawmills becomes sawn products in the form of planks and boards. The rest is turned into bioproducts such as cellulose chips and biofuel. The bioproducts are used by customers in the pulp and paper industry, the energy sector and in our own thermal energy production for the wood drying kilns.
Disturbing noise is always a priority issue for new investments and changes in the business. Through noise calculations, it is possible to assess how the new business affects nearby residents and how the facility can be designed to avoid unnecessary disruption.