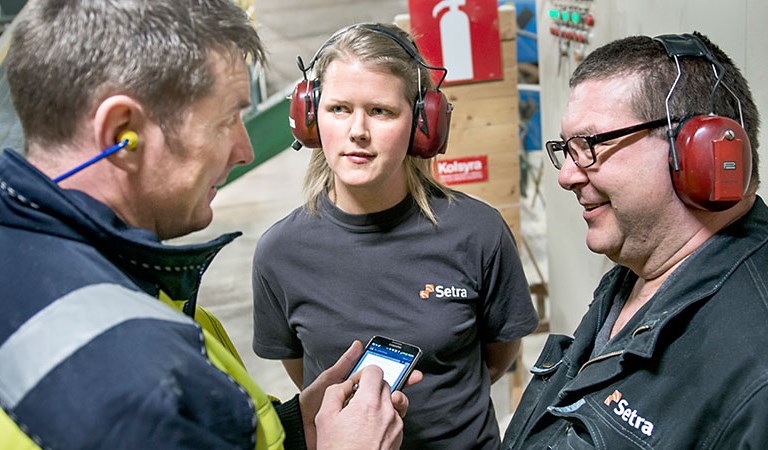 Working Environment
Workplace environment issues are a priority for us at Setra. Investments in perimeter protection, education and employee wellness initiatives are some of the key elements in our work to create a good and safe working environment.
Setra's Vision for Zero Accidents
Setra has a vision for zero accidents at work. That no one should have to hurt themselves in their workplace is a given. A good safety culture based on knowledge, is an essential prerequisite for reducing accidents.
We have adopted an interim target for 2025 whereby the number of accidents resulting in sick leave, calculated per million hours worked (Lost Time Accident Frequency Rate) should not exceed 10.
Slips, crushing and cutting incidents alongside falling or flying objects were the most common causes of workplace accidents with sick leave.
Occupational Health and Safety Responsibility
Setra's CEO's working responsibilities are delegated to the local site managers. Each unit has its own health and safety officer and its own safety committee led by the site manager.
The company formed a group wide Work Environment Council, headed by Setra's Environmental Manager, to support the local work environment. The Safety Officer, production staff and Setra's HR department form the Council, which works mainly with communication, training and safety issues. We also have a workplace environmental management system.
Each unit sets goals for the working environment and creates instructions for hazardous situations. Each year a review is carried out, where new laws and other news is discussed.
All our units are fitted with perimeter security. Saw lines, trim saws and factories have barriers and safety guards that disconnect the power if anyone comes too close to the machinery.
Through SIA, the sawmill industry's system for occupational injury reporting, sawmills and processing units continuously register work accidents and incidents. To identify and prevent risks is central in a systematic working environment practice.
Education and communication about the risks and potential risks is important in our work to develop a good health safety in the workplace. All contractors working on Setra's facilities must have completed the safety training SSG Entré. Setra has also further developed its internal training concept where SSG's security license is the basis of this training.